RS010L Robot
SKILLED AND FLEXIBLE ARC WELDING ROBOT
Kawasaki arc welding robots use state-of-the-art technology to rival the quality of a skilled human welder. The RS010L robot has a long reach of 1,925 mm and is suitable for welding large workpieces.
RS010L Overview:
Payload 10 kg
Axes 6
Reach 1,925 mm
Repeatability ±0.05 mm

Applications: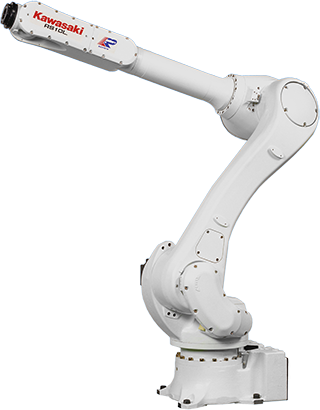 DATA DOWNLOAD
※ Before using CAD data, please be sure to read disclaimer
here
.
RS010L SPECIFICATIONS
RS010L SPECIFICATIONS
Type
Articulated Robot
Degree of Freedom
6
Max. Payload (kg)
10
Max. Reach (mm)
1,925
Positional Repeatability (mm) ✽1
±0.05
Motion Range (°)
Arm Rotation (JT1)
±180
Arm Out-in (JT2)
+155 - −105
Arm Up-down (JT3)
+150 - −163
Wrist Swivel (JT4)
±270
Wrist Bend (JT5)
±145
Wrist Twist (JT6)
±360
Max Speed (°/s)
Arm Rotation (JT1)
190
Arm Out-in (JT2)
205
Arm Up-down (JT3)
210
Wrist Swivel (JT4)
400
Wrist Bend (JT5)
360
Wrist Twist (JT6)
610
Moment (N•m)
Wrist Swivel (JT4)
22
Wrist Bend (JT5)
22
Wrist Twist (JT6)
10
Moment of Inertia (kg•m2)
Wrist Swivel (JT4)
0.7
Wrist Bend (JT5)
0.7
Wrist Twist (JT6)
0.2
Mass (kg)
230
Body Color
Munsell 10GY9/1 equivalent
Installation
Floor, Ceiling
Environmental Condition
Ambient Temperature (°C)
0 - 45
Relative Humidity (%)
35 - 85 (No dew, nor frost allowed)
Power Requirements (kVA) ✽2
3.0
Degree of Protection
Wrist:IP67 Arm:IP65
Controller
America
E01
Europe
Japan & Asia
✽1: conforms to ISO9283
✽2: depends on the payload and motion patterns
Contact
Click here or call (855) 855-1414