A New Base for the Semiconductor and Automotive Market,
Hastening to Expand Into Asia
In the 21st Century, Asian countries are steadily growing while developed countries face serious social issues such as a declining birthrate and aging population.
As sales of motor vehicles in these areas would indicate, it was evident that they would progress to someday become a major hotspot for consumption.
Also, amid fierce international competition, electrical and electronics manufacturers looked to Asia for their factories to maintain their international competitiveness.
2000
Establishing Business Hubs in Asia, a New Crossroads for Manufacturing and Consumption
With the dawning of the 2000s, Asian countries have accelerated their economic growth as emerging markets, with approximately 60% of overseas subsidiaries of Japanese manufacturers being concentrated in Asia. When it comes to the automotive industry, Japanese car manufacturers tripled their production volume in Asia from the early 1990s to the 2000s.* And in the electrical and electronics industry, shifting manufacturing sites from Japan to other Asian countries helped companies reduce labor costs while maintaining their international competitiveness. With this push for Japanese manufacturers to expand operations into Asia, Kawasaki's major customers also began setting foot into Asia one after another, and Kawasaki followed suit, expanding its sales and service bases.
Following the establishment of Kawasaki Machine Systems Korea, Ltd. (KMSK) in 1999 in Incheon, South Korea, new business hubs were opened in Taiwan in 2001 and in Thailand in 2002. Then in 2014, Kawasaki established the Singapore Kawasaki Robot Center, a facility mainly tasked with administering after-sales service, in Singapore, where more and more high-performance semiconductor manufacturing facilities are being established. In June 2017, the Singapore Kawasaki Robot Engineering Center(SKRE)was established in order to provide support for the development of industrial robot applications and training for engineers. Over in India, under Kawasaki's Indian subsidiary company, Kawasaki Heavy Industries (India) Pvt. Ltd., the Robot Division (KIRD) was established in 2015, further enhancing its business structure in Asia.
*Ministry of Economy, Trade and Industry; "Overseas Business Activities of Japan"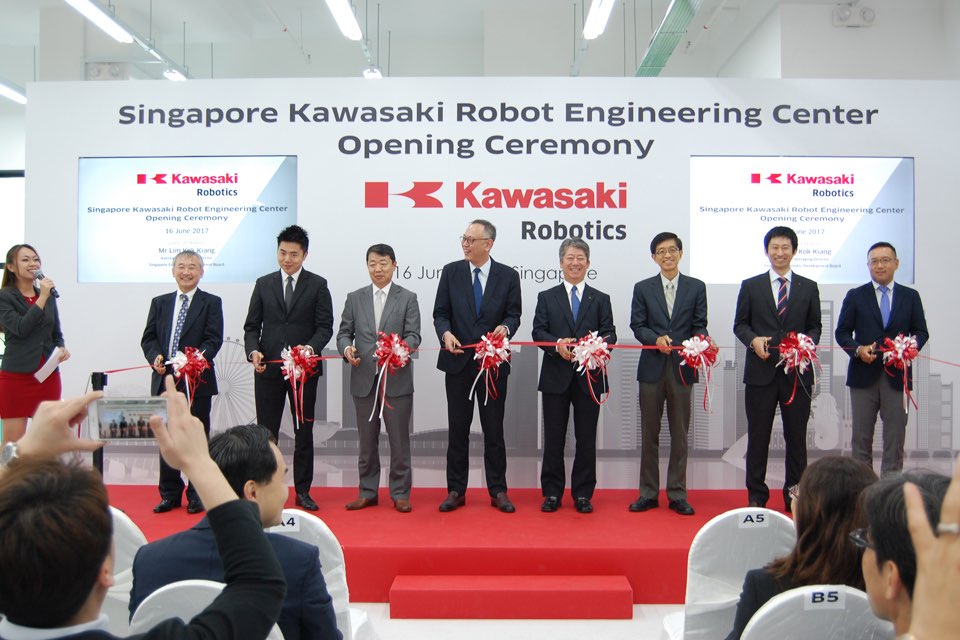 2001
Successively Establishing Local Subsidiaries in a Rapidly Growing China
Come the 21st century, the mechanical industry would dramatically expand in China, the "World's Factory", and local manufacturing would also grow. As a result, domestic demand was on the rise and both exports to and local production jumped in China, an emerging mass market. Following the trend, in 2006 Kawasaki established Kawasaki Robotics (Tianjin) Co., Ltd. (KRCT), its first business hub in China, in Tianjin. In 2009, a branch was open in the Kunshan office of KRCT to procure robot parts from local vendors to export to Japan. In 2013, that branch became independent and was reestablished as another company, Kawasaki Robotics (Kunshan) Co., Ltd. (KRCK), a center to promote local production and consumption taking into consideration increasing domestic demand in China. This created a business structure that transformed it from being a trade-oriented company to a production-oriented one. In May 2015, Kawasaki Robotics (Chongqing) Co., Ltd. (KCRE) was founded in Chongqing, a region where global EMS (electronics manufacturing services) companies have been flocking to. Selling robots standalone is a difficult task in the Chinese market, which is why Kawasaki decided to enter the production line building business—a business model that provides complete support for the design, production and implementation of assembly lines and is applicable not only for handling robots, but also works with lines in automotive factories that incorporate equipment such as automobile body assembly jigs, transport devices and control devices.
In 2015, the Kawasaki Precision Machinery (Suzhou) Co., Ltd. (KPM Suzhou) factory was established based on the concept of "robots creating robots".