Company
President's
Message
As a robot solution provider for the next generation—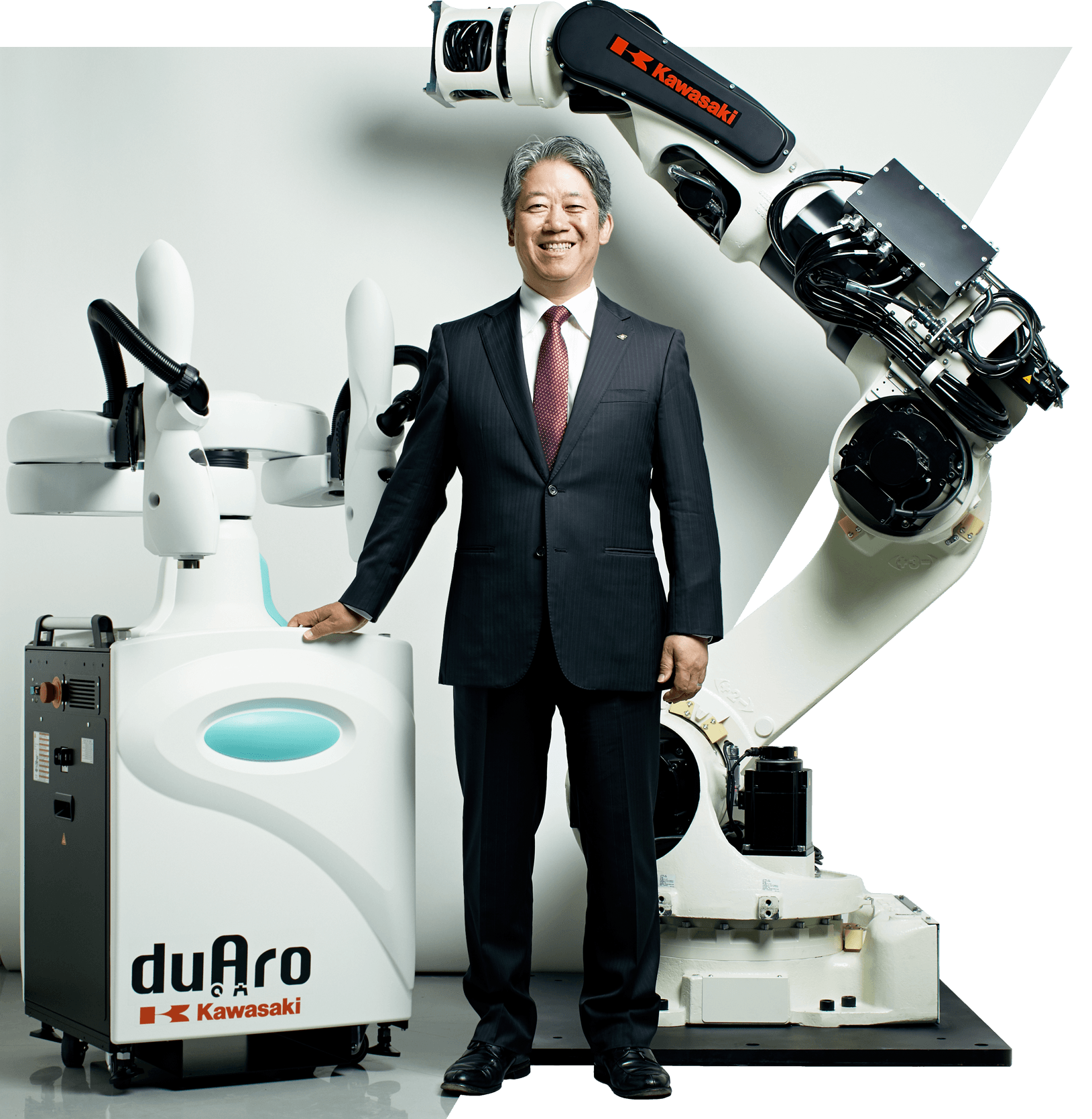 Yasuhiko Hashimoto
Director, Managing Executive Officer,
President of Precision Machinery & Robot Company,
Kawasaki Heavy Industries, Ltd.
Yasuhiko Hashimoto
We continue on in our quest to create robots that help people realize their dreams and solve problems in society.
Our robotics business, which started with the production of the first industrial robot in Japan, marks its 50th anniversary in 2018. Thanks to the support and efforts of our longtime customers, business partners, many predecessors, and employees who have helped establish the groundwork on which we stand today, we have been able to keep developing the business for half a century. Here I would like to express my deep gratitude.
Our robotics business began in 1968 when the "Office for Promoting Domestic Production of Industrial Robot (IR)" was first established. In the following year, we successfully produced the first industrial robot in Japan, and ever since, we, together with companies quick to note the potential of industrial robots, have continued to pursue new approaches to the utilization of robots.
Practical use of industrial robots began in the early 1970s with their implementation into the manufacturing process of the automotive industry. In the latter half of the 1990s, we began development of cleanroom robots for use during the production of semiconductors. Our central philosophy of responding to the needs and demands of society has guided us to gradually expand the playing field for industrial robots.
During the period of Japan's rapid economic growth, we grew our business by developing and implementing industrial robots hand in hand with our customers and partners. Our effort served as one of the biggest driving forces in accelerating the automation of manufacturing processes in the time of motorization and growth of the semiconductor industry. I am greatly honored that we are able to contribute to the history of manufacturing.
With the rapid aging of society and the diminishing workforce becoming critical social issues, expectations for robots are higher than ever. To satisfy such social demands, we have been proactively developing robots that can collaborate with humans.
For instance, in pursuit of expanding the fields for robot applications, we have developed robots which can safely coexist and work beside humans, reducing implementation time and costs. Also, our innovative robot system, which learns and replicates the operations of skilled engineers through a combination of remote collaboration features and artificial intelligence (AI) technology, is our collaborative robot to pass down skills of the experienced to new workers. Skill transfer for the tasks requiring human senses and experiences—a feat once thought difficult for robot application—can now be achieved with the use of robots.
As new technologies such as AI and the Internet of Things (IoT) integrate into society, robots are entering a completely new phase. The future often illustrated in comic books or science fiction films where robots coexist and work with humans not only within factories, but also in our daily lives is just around the corner.
One way we are working to make such future a reality is active development of medical robots. By employing state-of-the-art technologies and by creating safer, more reliable robots for healthcare applications, we are working toward a society where the burden placed on medical staff, patients and their families can be alleviated through the collaboration between humans and robots.
We are also conducting a joint development project tying industry and academia together to develop humanoid robots with structurally robust bodies and the ability to flexibly adapt to its surroundings. We aim to speed up development and promote the global utilization of robots in everyday life by incorporating open platform/open innovation models and by collaborating with people from all fields who share our vision.
The year 2018 marks our 50th anniversary. At this big turning point, we set our new goals for the next phase building upon the technology and experiences gained from our customers and society.
Regardless of when, there is always someone somewhere out there waiting for robots. We will listen to the voices of such people and devote every effort to develop robots that positively contribute to people and the greater society.
We are transforming ourselves from an industrial to a fully integrated robot manufacturer, with the aim of creating robots that help people realize their dreams and solve problems in society. As a robot solution provider, we continue on in our quest to offer robots which fulfill the needs of people and society by working along with people.
June 2018