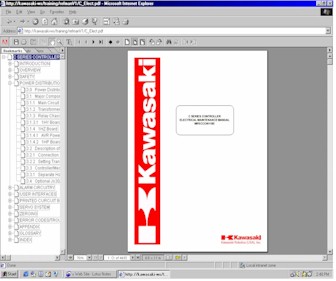 All of our manuals are available in hardcopy or PDF format. The manuals readily provide the information needed to install, operate, maintain and repair Kawasaki robots. Manuals in PDF format are available on the Kawasaki customer client site. To ensure the most current information is obtained, please download new manuals before performing any procedures.
A price list for printed documentation, KRI Manuals List, is also available on the client site.
Please note that our manuals are copyright protected. Printing, copying and distributing any manual in its entirety is strictly prohibited.
PRINTED COPIES

To purchase printed copies of a reference manual, please contact the Training and Documentation Department to place an order.

CLICK HERE or CALL (248) 446-4297