※Click on letters for details.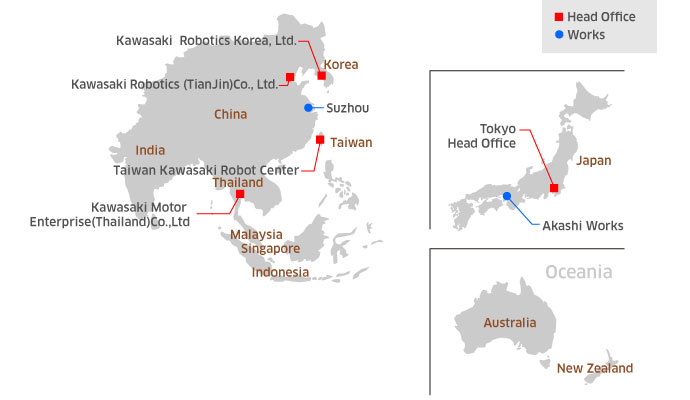 Japan
Kawasaki Heavy Industries, Ltd.
(Tokyo Robot Center)
2-3-1, Daiba, Minato-ku, Tokyo 135-0091, Japan
Tel. +81-(0)3-6457-1928 / Fax. +81-(0)3-6457-1971
(Akashi Works)
1-1 Kawasaki-cho, Akashi, Hyogo 673-8666
Tel. +81-(0)78-921-2946 / Fax. +81-(0)78-923-6548
Korea

Kawasaki Robotics Korea, Ltd.
(Head Office)
43, Namdong-daero 215beon-gil, Namdong-gu,
Incheon, 21633, Korea
Attn.:Mr. Kang,Byung Gill
Tel. +82-32-821-6941 / Fax. +82-32-821-6947

(Ho-nam Robot Center)
61009 Sochyong-Dong, Kwangsan-Gu, Kuwangju, Korea
Attn.:Mr. Kang, Byung Gill
Tel. +82-62-941-6941 / Fax. +82-62-941-6942
(Suwon Robot Center)
No.404, 1075-7, Hyohaeng-ro, Hwaseong-si, Gyeonggi-do, 18398, Korea
China
Kawasaki Robotics (Tianjin) Co., Ltd.
(Head Office)
Bldg 3, No.16,Xiang'an Road,TEDA,Tianjin 300457 China
Tel. +86-22-5983-1888 / Fax. +86-22-5983-1889
(Guangzhou Robot Center)
Room No.406, HUI QIANG building, 233 shiqiaoguangmingbei road,
Panyu district, Guangzhou, 511400 China
Tel. +86-20-34818537 / Fax. +86-20-34818539

(Shanghai Robot Center)
Room 1735, Building 2, No. 533, Jin Hongqiao International Center(Archwalk),
Loushanguan Rd., Changning district, Shanghai
Tel. +86-21-3353-8027 / Fax. +86-21-3353-7121

Kawasaki (Chongqing) Robotics Engineering Co., Ltd.
F District 204 room, North Area No.117 Yunjisuan Center, Yunhan Street
Shuitu Industrial Park, Beibei District, Chongqing, China
Tel. +86-177-8319-6056
Taiwan
Taiwan Kawasaki Robot Center
(Head Office)
3F, No.31, Ln.216, Gongyuan Rd., Hsinchu City 30069, Taiwan(R.O.C.)
Attn.:Mr. Fujita
Tel. +886-3-562-0518 / Fax. +886-3-562-0582
Thailand
Kawasaki Motor Enterprise (Thailand) Co., Ltd.
(Rayong Robot Center)
119/10 Moo 4 T. Pluak Daeng, A. Plual Daeng, Rayong 21140, Thailand
Attn.: Mr.Ikeda
Tel. +66-38-955-040-58 / Fax. +66-38-955-145
(Ayutthaya Service Point)
52/21 Moo 7,T.Ban Srang, A. Bang Pain, Phranakhon Sri Ayutthaya 13160 Thailand
Attn.: Mr. Sarashina
(Bangkok Office)
2499 New Phetchaburi Road, Kwaeng Bangkapi, Khet Huay - Kwang, Bangkok 10310 Thailand
Attn.: Mr. Banno
Malaysia
FA Controls Malaysi Sdn. Bhd.
6 Jalan Tpk 1/6 Seksyen 1 Taman Perindustrian Kinrara 47100 Puchong, Selangor Malaysia
Attn.:Mr. Loh, Weng Soon
Tel. +60-3-8070-8866 / Fax. +60-3-8070-8899
Dynaflo Sdn. Bhd.
17 & 19, Jalan TP7/3, Sime UEP Industrial Park, 40400 Shah Alam, Selangor Darul Ehsan, Malaysia.
Attn.:Mr. Richard Lee
Tel. +60-3-5192-6525 / Fax. +60-3-5192-6522
Singapore
Kawasaki Heavy Industries (Singapore) Pte. Ltd.
Singapore Kawasaki Robot Engineering Center/Singapore Kawasaki Robot Center
Engineering & Support
100G Pasir Panjang Road #06-10 Singapore 118523
Tel. +65-6513-3145 (Engineering) / Tel. +65-6542-6515 (Service)
India
Kawasaki Heavy Industries (India) Pvt. Ltd.
Gurgaon Office
Plot No.136, Sector-37, Pace City- 1, Gurgaon-122101, Haryana, India
Attn.:Mr. Tanahashi
Tel.
+91-0124-4371845(Sales)
+91-0124-4371846(Service)
+91-0124-4371847/4371303 (Others)
Indonesia
PT. Toyota Tsusho Mechanical & Engineering Service Indonesia
MM2100 Industrial Town, Plot KK-7, West Cikarang 17520
Indonesia
Tel. +62-21-8998-1688 / Fax. +62-21-8998-1682
Australia
ROBOT TECHNOLOGIES-SYSTEMS AUSTRALIA PTY LTD.
35 Laser Drive, Rowville, Victoria, Australia, 3178 Australia
Attn.:Mr. Jack Bain
Tel. +61-3-9548-5512 / Fax. +61-3-9330-3317
New Zealand
J.M.P. ENGINEERING LTD
455 Rosebank Road, Avondale, Auckland, New Zealand
Attn.:Mr. Michael Thornton
Tel. +64-9-828-3304 / Fax. +64-9-828-3368
From initial enquiry and throughout the products lifetime Kawasaki prides itself in providing best in class support.
Service and Backup from planning to realisation and in operation of robot systems.Kawasaki Motors Enterprise (Thailand) Co., Ltd Robot Center (Kawasaki Robotics, KMT) is a competent partner for all questions of robot automation.
Our Services are starting with the choice of the right robot, cycle time- and reachability analysis up to special trainings. In addition, we can introduce one of our Partners for a complete realisation of your automation project.
Kawasaki Robotics is providing its customers with the following Services:
Planning simulation
Programing, Installation & implementation
Work Test (Spray Test is available, KMT has paint test booth)
Design & Fabrication
Maintenance & preventive maintenance
Diagnosis or Debugging (on-site or remote)
Quick repair
24 hours/365 days phone hotline for urgent technical issues
Contact
CUSTOMER SUPPORT