BX200L Robot
OPTIMIZED SPOT WELDING ROBOT
The BX200L high-speed spot welding robot features a hollow wrist for housing cables and hoses. It is suitable for large weld guns and can easily replace an inefficient existig robot.
BX200L Robot Overview:
Payload 200 kg
Horizontal Reach 2,597 mm
Repeatability ±0.06 mm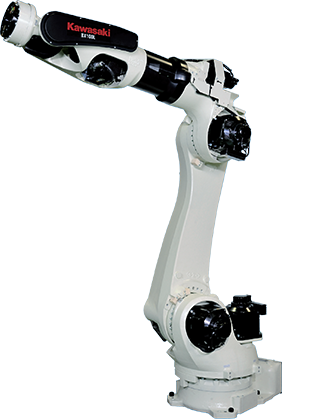 DATA DOWNLOAD
※ Before using CAD data, please be sure to read disclaimer
here
.
BX200L Robot SPECIFICATIONS
BX200L SPECIFICATIONS
Degrees of Freedom
6 axes
Max. payload
200 kg
Max. reach
2,597 mm
Repeatability
±0.06 mm
Work Envelope
(degrees)
&
Maximum Speed
(degrees/s)
Axis
Motion Range
JT1
±160
JT2
+76 - –60
JT3
+90 - –75
JT4
±210
JT5
±125
JT6
±210
Mass (kg)
930
Installation
Floor
Controller
America
E02
Europe
Japan & Asia
Contact
Click here or call (855) 855-1414