BX100S Robot
OPTIMIZED SPOT WELDING ROBOT
The smallest and fastest of the B series, the BX100S robot features a hollow wrist for housing cables and hoses. Its short reach design is suitable for small and light weld guns, and it allows the robot to be installed close to the workpiece and in high-density applications.
BX100S Robot Overview:
Payload 100 kg
Horizontal Reach 1,634 mm
Repeatability ±0.06 mm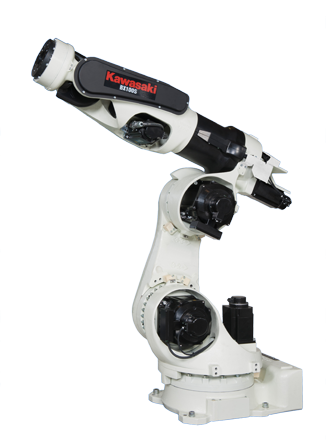 DATA DOWNLOAD
※ Before using CAD data, please be sure to read disclaimer
here
.
BX100S Robot SPECIFICATIONS
BX100S SPECIFICATIONS
Degrees of Freedom
6 axes
Max. payload
100 kg
Max. reach
1,634 mm
Repeatability
±0.06 mm
Work Envelope
(degrees)
&
Maximum Speed
(degrees/s)
Axis
Motion Range
Maximum Speed
JT1
±160
135
JT2
+120 - –65
125
JT3
+90 - –81
155
JT4
±210
200
JT5
±125
160
JT6
±210
300
Mass (kg)
720
Installation
Floor
Controller
America
E02
Europe
Japan & Asia
Contact
Click here or call (855) 855-1414