RS015X Robot
HIGH-SPEED, HIGH-PERFORMANCE ROBOT
With a maximum reach of 3,150 mm, the RS015X model has the longest reach of the R series robots, which are setting the benchmark for all small to medium duty industrial robots. The compact design, along with industry leading speed, reach and work range make the R series robots ideal for a wide range of applications throughout a multitude of diverse industries.
RS015X Overview:
Payload 15 kg
Horizontal Reach 3,150 mm
Vertical Reach 5,731 mm
Repeatability ±0.06 mm
Maximum Speed 19,900 mm/s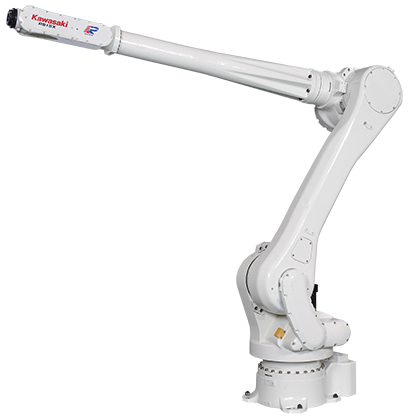 DATA DOWNLOAD
※ Before using CAD data, please be sure to read disclaimer
here
.
RS015X SPECIFICATIONS
RS015X SPECIFICATIONS
Degrees of Freedom
6 axes
Payload
15 kg
Horizontal Reach
3,150 mm
Repeatability
±0.06 mm
Work Envelope
(degrees)
&
Maximum Speed
(degrees/s)
Axis
Motion Range
Maximum Speed
JT1
±180°
180°/s
JT2
+140° ~ -105°
180°/s
JT3
+135° ~ -155°
200°/s
JT4
±360°
410°/s
JT5
±145°
360°/s
JT6
±360°
610°/s
Wrist Load
Capacity
Axis
Max Torque
Moment of Inertia
JT4
34 N•m
0.8 kg•m2
JT5
34 N•m
0.8 kg•m2
JT6
22 N•m
0.25 kg•m2
Mass
545 kg (excluding Options)
Body Color
Kawasaki Standard
Installation
Floor, ceiling

Protection

Classification

Wrist: IP67 Base: IP65 *Equivalent
Controller
America
E02
Europe
E02
Japan & Asia
E02
Contact
Click here or call (855) 855-1414