YF002N Robot
ULTRA HIGH-SPEED DELTA ROBOT
The YF002N pick & place robot is the compact model of the Y series and it can be installed in narrow spaces. The high-speed Y series robots can be used for material handling and assembly applications in a variety of industries, including food, pharmaceutical, cosmetics, electronics, machinery, and solar panels.
YF002N Robot Overview:
Payload 2 kg
Motion Range ø600 × H200 mm

Applications: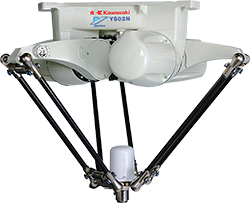 DATA DOWNLOAD
※Before using CAD data, please be sure to read disclaimer
here
.
YF002N Robot SPECIFICATIONS
YF002N SPECIFICATIONS
Type
Parallel Link Type
Degrees of Freedom (Axes)
4
Payload (kg)
2
Positional Repeatability (mm) *1
± 0.04
Motion Range (mm)
ø600 × H200
Mass (kg)
60
Mounting
Ceiling
Installation Environment
Ambient Temperature (°C)
10 - 35
Relative Humidity (%)
35 - 85 (No dew, nor frost allowed)
Controller / Power Requirements (kVA)
America
F01 / 5.6
Europe
F01 / 5.6
Japan & Asia
F01 / 5.6
Protection
Standard
IP65 equivalent
Option
-
Angular Repeatability (°)
± 0.1
Cycle Time (Payload) *2
0.3s (0.5 kg) 0.36s (2 kg)
✽1: The figure conforms to ISO9283.
✽2: Motion pattern (25 mm up, 305 mm horizontal, 25 mm down in a to-and-fro motion).
Contact
Click here or call +49 2131 3426-0

(Mon.-Fri. 9:00-17:00 CET)