KJ314 Wall Robot-7 Axes
EXPLOSION-PROOF PAINTING ROBOT
The wall mounting, 7 axes KJ314 explosion-proof painting robot features a 3R (Roll, Roll, Roll) hollow wrist with inner diameter of 70 mm to accommodate hoses as well as a slim and lighweight body with a wide motion range. Thanks to its 7th axis, the robot offers a high degree of freedom for hard to reach painting areas. Painting equipment can be mounted on the upper arm.
KJ314 Wall Robot-7 Axes Overview:
Payload wrist 15 kg, arm 25 kg
Horizontal Reach 3,100 mm

Applications: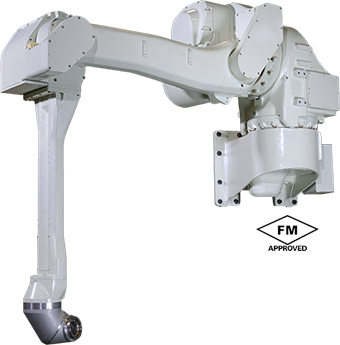 DATA DOWNLOAD
※ Before using CAD data, please be sure to read disclaimer
here
.
KJ314 Wall Robot-7 Axes SPECIFICATIONS
KJ314 SPECIFICATIONS
Degrees of Freedom
7 axes
Payload
Wrist 15 kg, arm 25 kg
Horizontal Reach
3,100 mm *
Repeatability
±0.5 mm
Wrist Type
3R Ø70 mm (Roll Roll Roll - hollow wrist)
Work Envelope
(degrees)
Axis
Motion Range
JT1
±120°
JT2
+130° ~ -80°
JT3
+90° ~ -65°
JT4
±720°
JT5
±720°
JT6
±410°
JT7
±90°
Wrist Load
Capacity
Axis
Max Torque
Moment of Inertia
JT4
56.2 N•m
2.19 kg•m2
JT5
43.4 N•m
1.31 kg•m2
JT6
22.0 N•m
0.33 kg•m2
Mass
720 kg (excluding Options)
Installation
Wall
Explosion
Protection
Pressurized and intrinsically safe
Class 1, Zone 1, Group IIB & T4 certified
Controller
America
E35
Europe
E45
Japan & Asia
E25
* Distance from JT1 to the axis cross-point between JT4 and JT5
Contact
Click here or call (855) 855-1414