KJ314 Wall Robot-7 Axes
EXPLOSION-PROOF PAINTING ROBOT
The wall mounting, 7 axes KJ314 explosion-proof painting robot features a 3R (Roll, Roll, Roll) hollow wrist with inner diameter of 70 mm to accommodate hoses as well as a slim and lighweight body with a wide motion range. Thanks to its 7th axis, the robot offers a high degree of freedom for hard to reach painting areas. Painting equipment can be mounted on the upper arm.
KJ314 Wall Robot-7 Axes Overview:
Payload wrist 15 kg, arm 25 kg
Horizontal Reach 3,100 mm

Applications: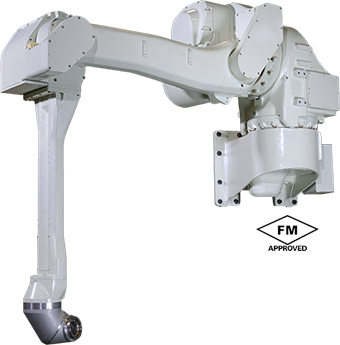 DATA DOWNLOAD
※ Before using CAD data, please be sure to read disclaimer
here
.
KJ314 Wall Robot-7 Axes SPECIFICATIONS
KJ314 SPECIFICATIONS
Wrist Type
3Rø70 ✽1
Degree of Freedom(axes)
7
Max. Payload (kg)
Wrist:15 Arm:25
Max. Reach (mm) ✽2
3,100
Positional Repeatability (mm) ✽3
±0.5
Motion Range (°)
Arm Rotation (JT1)
±120
Arm Out-in (JT2)
+130 - −80
Arm Up-down (JT3)
+90 - −65
Wrist Swivel (JT4)
±720
Wrist Bend (JT5)
±720
Wrist Twist (JT6)
±410
Arm Swing(JT7)
±90
Moment (N•m)
Wrist Swivel (JT4)
56.2
Wrist Bend (JT5)
43.4
Wrist Twist (JT6)
22.0
Moment of Inertia (kg•m2)
Wrist Swivel (JT4)
2.19
Wrist Bend (JT5)
1.31
Wrist Twist (JT6)
0.33
Max.speed (mm/s)
1,500
Mass (kg)
720
Body Color
Munsell 10GY9/1 equivalent
Installation
Wall
Explosion Protection
America
Combination of pressurized type and intrinsically safety type (CLI ZN1 AExpxib ⅡB T4 / AExib ⅡB T4)
Environmental Condition
Ambient Temperature (°C)
0 - 40
Relative Humidity (%)
35 - 85 (No dew, nor frost allowed)
Power Requirements (kVA) ✽4
5
Controller
America
E35
Europe
E45

Japan & Asia
E25
✽1: Hose Built-in.
✽2: The 3R (Roll Roll Roll) wrist of the 7-axis robot is the distance from the center of JT7 to the intersection of JT4 and JT5 axes.
✽3: The figure conforms to ISO9283.
✽4: It depends on the payload and motion patterns.
Contact
Click here or call (855) 855-1414