MC004V Robot
MEDICAL & PHARMACEUTICAL ROBOT
The MC004V clean robot helps prevent human errors, contamination risks, and exposure to High Potency Pharmaceutical Ingredients, such as anticancer drugs. The robot meets the healthcare industry's processing equipment specifications for accuracy, consistency and cleanliness, making it ideal for assembly, dispensing, inspection and material handling applications.

The robot arm has a special surface treatment and uses a special sealing material to cope with sterilization by VHP. The encoder battery installed separately from the robot arm allows battery exchanges outside the isolator, providing higher maintenability.
MC004V Robot Overview:
Payload 4 kg
Horizontal Reach 506 mm
Repeatability ±0.05 mm

Applications: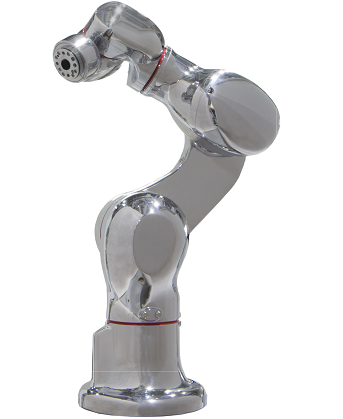 DATA DOWNLOAD
※ Before using CAD data, please be sure to read disclaimer
here
.
MC004V Robot SPECIFICATIONS
MC004V SPECIFICATIONS
Type
Articulated Robot
Degrees of Freedom(axes)
6
Payload (kg)
4
Max. Reach (mm)
505.8
Positional Repeatability (mm) ✽1
±0.05
Motion Range (°)
Arm Rotation (JT1)
±180
Arm Out-in (JT2)
+135 - −95
Arm Up-down (JT3)
+60 - −155
Wrist Swivel (JT4)
±270
Wrist Bend (JT5)
±120
Wrist Twist (JT6)
±270
Max Speed (°/s)
Arm Rotation (JT1)
200
Arm Out-in (JT2)
180
Arm Up-down (JT3)
225
Wrist Swivel (JT4)
700
Wrist Bend (JT5)
500
Wrist Twist (JT6)
350
Allowable Moment (N•m)
Wrist Swivel (JT4)
8.5
Wrist Bend (JT5)
8.5
Wrist Twist (JT6)
4.0
Allowable Moment of Inertia (kg•m2)
Wrist Swivel (JT4)
0.2
Wrist Bend (JT5)
0.2
Wrist Twist (JT6)
0.1
Mass (kg)
25
Body Color
Special Surface Treatment
Mounting
Floor, Ceiling
Cable connection
Bottom
Installation Environment
Ambient Temperature (°C)
10 - 35
Relative Humidity (%)
35 - 85 (No dew, nor frost allowed)
Cleanliness
ISO Class5
Integrated Function
Air piping(φ4 × 2), Through from the wrist flange, Port size : Rc1/4
Protection✽2
Wrist : IP67 equivalent / Base : IP65 equivalent
Controller / Power Requirements (kVA)
F60 / 1.0
✽1: The figure conforms to ISO9283.
✽2: The flange must be closed in case of using the built-in piping.
Contact
Click here or call (855) 855-1414