CX110L Robot
NEW GENERAL-PURPOSE LARGE PAYLOAD ROBOT
The CX110L robot has a payload capacity of 110 kg and the highest speed of the general-purpose CX series robots. The CX robots offer a large payload capacity and feature a robust, yet lightweight, hollow arm and a new smaller sized universal controller. The series high-speed and slim arm design was developed to suit a wide range of applications, from material handling to spot welding.
CX110L Overview:
Payload 110 kg
Axes 6
Reach 2,699 mm
Repeatability ±0.06 mm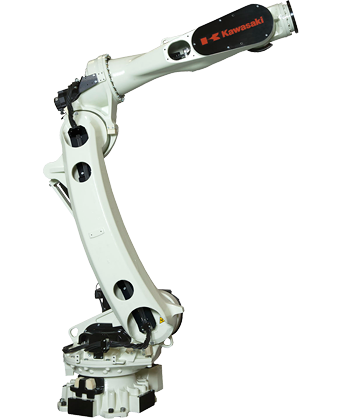 DATA DOWNLOAD
※ Before using CAD data, please be sure to read disclaimer
here
.
CX110L SPECIFICATIONS
CX110L SPECIFICATIONS
Type
Articulated
Degrees of Freedom
6 axes
Payload
110 kg
Horizontal Reach
2,699 mm
Repeatability
±0.06 mm
Work Envelope
(degrees)
&
Maximum Speed
(degrees/s)
Axis
Motion Range
Maximum Speed
JT1
±160
140
JT2
+80 - −60
135
JT3
+95 - −75
135
JT4
±210
200
JT5
±120
200
JT6
±360
300
Wrist Load
Capacity
Axis
Max Torque
Moment of Inertia
JT4
830 N•m
85 kg•m2
JT5
830 N•m
85 kg•m2
JT6
441 N•m
45 kg•m2
Mass
870 kg (excluding Options)
Body Color
Kawasaki Standard
Installation
Floor
Environmental
Conditions
Temperature
0 ~ 45°C
35 ~ 85% (no dew, nor frost allowed)
Humidity
Controller
E02
Contact
Click here or call (855) 855-1414