MX700N Robot
INNOVATIVE HIGH WRIST TORQUE ROBOT
The MX700N robot has a maximum payload capacity of 700 kg and reach of 2,540 mm with one of the highest available wrist torque in the industry, which provides the ability to significantly offset heavy payloads from the tool mounting flange. Along with powerful motors, Kawasaki's original link design for JT3 (arm up-down) gives the robot the power to lift heavy loads without the use of bulky and limiting counterweights, maximizing the robot's motion range and allowing for a compact footprint.
MX700N Overview:
Payload 700 kg
Horizontal Reach 2,540 mm
Vertical Reach 2,839 mm
Repeatability ±0.5 mm
Max. Linear Speed 2,000 mm/s
Applications: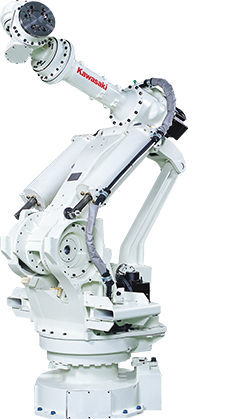 DATA DOWNLOAD
※ Before using CAD data, please be sure to read disclaimer
here
.
MX700N SPECIFICATIONS
MX700N SPECIFICATIONS
Degrees of Freedom
6 axes
Payload
700 kg
Horizontal Reach
2,540 mm
Repeatability
±0.5 mm
Work Envelope
(degrees)
&
Maximum Speed
(degrees/s)
Axis
Motion Range
Maximum Speed
JT1
±180°
65°/s
JT2
+90° ~ -45°
50°/s
JT3
+20° ~ -130°
45°/s
JT4
±360°
50°/s
JT5
±110°
50°/s
JT6
±360°
95°/s
Wrist Load
Capacity
Axis
Max Torque
Moment of Inertia
JT4
5,488 N•m
600 kg•m2
JT5
5,488 N•m
600 kg•m2
JT6
2,744 N•m
388 kg•m2
Mass
2,860 kg (excluding Options)
Body Color
Kawasaki Standard
Installation
Floor (includes fork pockets)
Protection
Classification
Wrist: IP65 Base: IP65 *Equivalent
Controller
America
E04
Europe
Japan & Asia
Contact
Click here or call (855) 855-1414