duAro2 Robot
COLLABORATIVE ROBOT
The "duAro2" dual-arm collaborative SCARA robot is an innovative robot that works safely and efficiently next to humans. This model offers the same advanced qualities of Kawasaki's duAro1 robot with an extended vertical stroke and increased payload, enabling use for a wider range of applications that include packaging or rack loading.
duAro2
Payload 3 kg each arm
(6 kg total)
Axes 4 axes each arm
Repeatability ±0.05 mm
Typical Applications: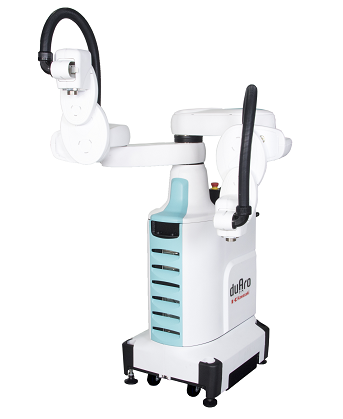 DATA DOWNLOAD
※ Before using CAD data, please be sure to read disclaimer
here
.
duAro2 Robot SPECIFICATIONS
Type
Horizontal articulated type
Degree of freedom (axes)
4 × 2 arms
Max. payload (kg)
3 × 2 arms
Positional repeatability (mm)
±0.05
Motion range (°)


Lower arm
Upper arm
Arm rotation (°)
-170 - +170 (JT1)
-140 - +500 (JT1)
Arm rotation (°)
-130 - +140 (JT2)
-140 - +130 (JT2)
Arm up-down (mm)
0 - +550 (JT3)
0 - +550 (JT3)
Wrist swivel (°)
-360 - +360 (JT4)
-360 - +360 (JT4)
Max. Torque (N・m)
Wrist axis (JT4)
3.9
Allowable moment of inertia (kg・㎡)
Wrist axis (JT4)
0.086
Controller (F61)
Number of controlled axes
Max. 12 (standard 8, optional 4)
Drive system
Full digital servo system
Type of motion control
Manual mode
Coodinated movement of 2 arms, Individual movement of 1 arm,
[Interpolation mode] Joint, Base, Tool
Auto mode
Coodinated movement of 2 arms, Individual movement of 2 arm,
[Interpolation mode] Joint, Linear interpolated motion
Programming
Direct teaching method through tablet
Memory capacity (MB)
16
I/O signal
General input
(No.of input)
16 (max.80)
General output
(No.of output)
16 (max.80)
Power requirements
AC200-230V±10%, 50/60Hz±2%, Single phase, Max. 2.0kVA*1
Class-D (3rd class) earth connection (earth connection dedicated to robots),
Leakage current: max 10mA
Mass (kg)
210 (integrated type), 100 (arm unit of separated type)
Installation
Floor
Installation
Environment
Temperature (°C)
5 - 40*2
Humidity (%)
35 - 85 (no dew, nor frost allowed)*2
*1: At the time of power activation, rush current generates in the range of several to tens of several times of the normal current. Due to such rush current, the supply voltage could drop. It is recommended to select a power supply capacity with enough room to cope with such instantaneous current change.
*2: Please consult with us for use of specifications other than specified above.
Contact
Click here or call (855) 855-1414