TTS Series Robot
The TTS series robot can access 2 and 3 FOUPs of EFEM without a track. The specially designed drive system enables the robot to move incredibly smoothly and with high precision. In addition, its rigid telescopic mechanism delivers high-speed handling in high and low positions.

The series is compliant with the SEMI-F47 standard as well as the SEMI-S2 standard.
TTS SERIES ROBOTS:
TTS10 Degree of freedom - 4 axes
TTS20 Degree of freedom - 5 axes

Applications: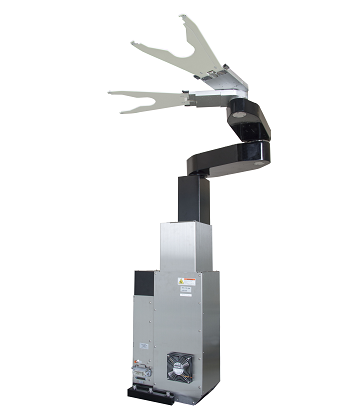 TTS20
*The standard robot arm does not include a hand.
Layout Example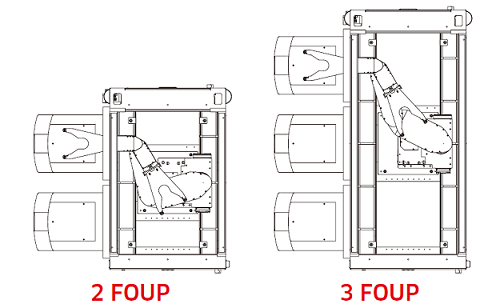 The TTS series can be used for 2 to 3 FOUPs of EFEM without a track.
DATA DOWNLOAD
TTS Series Specifications
Model
Standard
Option
TTS10
TTS20
Structure
Telescopic horizontal articulated type
-
Arm
Single arm
Double arm
-
Degree of freedom (axes)
4
5
-
Motion range
θ1 axis (rotation・JT2)(°)
340
-
Z axis (up-down・JT3)(㎜)
740
-
θ2 axis (rotation・JT4)(°)
340
-
H1 axis (rotation・JT6)(°)
340
-
H2 axis (rotation・JT7)(°)
-
340
-
Maximum reach (mm)
1,066
-
Repeatability (mm)*1
±0.1 (Wafer Center)
-
Cleanliness*2
ISO Class 1
-
Hand specification*3
-
-
Edge gripper / Vacuum
Controller
D60
Teach pendant
Robot haness (1-5m)*4
Operation box
Software
Standard software for oparation
KRET
KMTerm
KR3D
KSUtility Lite
KSUtility
Manual
Operation manual
-
Communication command manual
-
Introduction procedure for integrated package software (K-Fast)
-
Others
-
Aligner
-
Mapping sensor
*1: The figure conforms to ISO9283.
*2: The figure is measured in our clean booth.
*3: The standard robot arm does not include a hand.
*4: A robot harness is available with the length from 1 to 5 meters (1, 2, 2.5, 3, 3.5, 4, 4.5, and 5).
For more detail, please contact Kawasaki representatives in your region.
Contact
Click here or call (855) 855-1414