TT Series Robot
Semiconductor, Organic EL, LCD panel, Solar panel
LONG REACH TELESCOPIC ARM
All of the features of the NT series have been carried over to the TT series, including the ability to access up to four FOUPs. The TT series design utilizes the NT series horizontal articulated arm with a highly rigid telescopic base, delivering high-speed handling in high and low positions.
TT SERIES ROBOTS Overview:
TT220 Telescopic double arm
Applications:
Clean Robot Peripherals: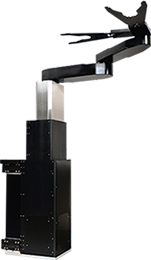 EXCEPTIONAL REACH

Single TT series arm can reach up to four FOUPs. The telescopic arm gives additional flexibility for reaching FOUPs and processing equipment in high and low positions.

HIGH THROUGHPUT

The TT series robot utilizes the high speed design of the NT series arm along with dual grippers for high throughput.

SEMI F47 COMPLIANT

TT models instantaneously respond to electrical fluctuations, such as a drop in voltage, and automatically resume operation when voltage is restored.

SEMI S2 COMPLIANT

TT models meet specific considerations for environment and personal safety.

COLLISION DETECTION

Both software and hardware components are equipped with collision detection features to lessen the damage of delicate and specialized equipment caused by collisions.
TT Series SPECIFICATIONS
Model
TT220
Structure
Telescopic horizontal articulated type
Degrees of Freedom
5 axes
Motion Range
θ axis (rotation JT2)
340°
Z axis (up-down JT3)
740 mm
θ axis (rotation JT4)
340°
H1 axis (rotation JT6)
340° (380°)*2
H2 axis (rotation JT7)
340° (380°)*2
Maximum Reach
1,230 mm
Repeatability
±0.1 mm (wafer center)
Cleanliness*1
ISO Class 1
Controller
D60/D61 (see Clean Controllers for specifications)
*1: Measured in Kawasaki's clean booth
Contact
Click here or call (855) 855-1414