NT Series Robot
Semiconductor, Organic EL, LCD panel, Solar panel
LONG REACH HORIZONTAL ARM
The NT series clean robot is designed to give a single robot the reach to tend up to four FOUPs without using a linear axis. The NT series incorporates the next-generation design to handle either 300 mm or 450 mm wafers at a rate of 400 wafers per hour (WPH) without an aligner.
NT410/NT510

NT420/NT520

NT620
NT SERIES ROBOTS:
NT410 / NT510 Single arm
NT420 / NT520 Double arm
NT620 Ceiling mount double arm
Applications:
Clean Robot Peripherals:
EXCEPTIONAL REACH

Single NT series arm can reach up to four FOUPs. An optional linear axis is available to increase the maximum number of FOUPs to five.

HIGH THROUGHPUT

The throughput of the standard NT robot is 280 wafers per hour (WPH) with aligner and 400 WPH without aligner. An optional gripper is available that increases the throughput to 700 WPH.

SEMI F47 COMPLIANT

NT models instantaneously respond to electrical fluctuations, such as a drop in voltage, and automatically resume operation when voltage is restored.

SEMI S2 COMPLIANT

NT models meet specific considerations for environment and personal safety.

COLLISION DETECTION

Both software and hardware components are equipped with collision detection features to lessen the damage of delicate and specialized equipment caused by collisions.

CEILING MOUNT

The NT620 model features a ceiling mount specification design for use in a chemical liquid environment while meeting ISO Class 1 requirements.
Application Example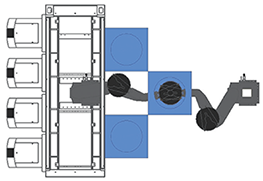 The wide motion range of the NT series makes it possible to access the main chamber without the need for a shuttle or an extra robot.
Layout Example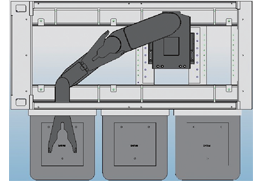 A single NT series robot is able to access all EFEMs with 2 to 4 FOUPs without a track.
NT Series SPECIFICATIONS
Model
NT410
NT420
NT510
NT520
NT620
Structure
Horizontal articulated type
Degrees of Freedom
4 axes
5 axes
4 axes
5 axes
5 axes
Motion Range
θ1 axis
(rotation JT2)
340°
340°
340°
340°
340°
Z axis
(up-down JT3)
400 mm
400 mm
470 mm
470 mm
600 mm
θ2 axis
(rotation JT4)
340°
340°
340°
340°
340°
H1 axis
(rotation JT6)
340° (380°) *2
340° (380°) *2
340° (380°) *2
340° (380°) *2
340° (380°) *2
H2 axis
(rotation JT7)
-
340°
-
380°
380°
Maximum Reach
1,230 mm
1,280 mm
1,230 mm
1,280 mm
1,250.7 mm
Repeatability
± 0.1 mm (wafer center)
Cleanliness*1
ISO Class 1
Controller
D60/D61 (see Clean Controllers for specifications)
*1: Measured in our clean booth *2: As option
Contact
Click here or call (855) 855-1414