Paint Controllers
E25 and E27
Kawasaki has incorporated its 50 years of experience as a robot industry leader into the development of the most technically advanced paint controller available. The E25/27 Paint Controller combines high performance, unprecedented reliability, process control features and simple operation, all in a compact design.
Explosion-Proof Teach Pendant:
Large, color LCD touch screen display
The arrangement of keys has been optimized through extensive studies of operator hand movement
Equipped with safety switches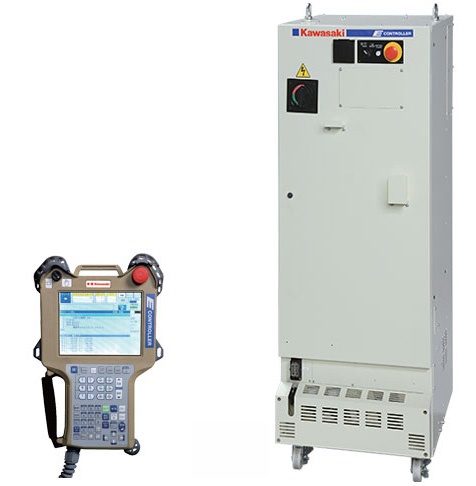 Note: Images not shown to scale.
E2X
DATA DOWNLOAD
Features
E25/27
These controllers are for explosion-proof painting robots with a new explosion-proof teach pendant featuring a color LCD, Programming and editing work can efficiently be carried out from inside the explosion-proof paint booth.
ADVANCED TECHNOLOGIES

The high performance CPU provides extremely accurate trajectory control, high-speed program execution as well as extremely fast loading and saving of files. Two Ethernet ports are available for the user to connect directly to a laptop or to an Ethernet network to remotely save programs or monitor the process.

USER FRIENDLY OPERATION

The easy to use intrinsically safe teach pendant now incorporates a low-voltage color LCD touchscreen as well as motor power and cycle start at your fingertips while programming inside the paint booth. Multiple information screens can be displayed simultaneously including spray condition and diagnostics. The intuitive teaching interface is simple to use.

ABUNDANCE OF FEATURES

The extremely powerful Kawasaki AS Programming Language allows for sophisticated motion and sequence control. The built-in paint process data bank is used to configure presets for flow rate, shaping air, and atomizing air settings.

EXPANDABLE

Three additional axes can be added for control of process equipment and a 7th axis rail. Numerous communication field buses are available for controlling peripheral devices. The Kawasaki K-Logic sequencer software can be combined with user-customized interface panels on the teach pendant.

EXPLOSION-PROOF TEACH PENDANT

The explosion-proof teach pendant is designed for use while in the painting area. Its intrinsically safe construction is Class 1, Zone 1, Group IIB & T4 certified.

EASY MAINTENANCE

Modular components with limited cables allow for easy diagnostics and maintenance. On board self diagnostics minimizes troubleshooting and reduces MTTR. Remote Diagnostics via the web server option enables service support from anywhere in the world. The E35/37 controller's main circuitry modules, including the I/O boards and MC unit, are interchangeable with non-paint E controllers reducing spare parts inventory and order lead time. All standard circuitry and intrinsically safe components are now mounted inside the main controller enclosure, eliminating the bulky side box.
Paint Controllers SPECIFICATIONS
Industrial Paint Controller (E Controllers) SPECIFICATIONS
Region
America
E35/E37
Option
Europe
E45/E47
Japan & Asia
E25/E27
Dimensions (mm)
W 500 × D 550 × H 1,400
-
Structure
Enclosed structure / Indirect cooling system
-
Number of Controlled Axes
6
Max. 9
Memory capacity (MB)
8
-
General Purpose Signals
External Operation
Motor power Off, Hold
-
Input (Channels)
32
Max. 128
Output (Channels)
32
Max. 128
Cable Length
Robot-controller (m)
3 inside the booth, 3 outside the booth
Extendable up to 40
Teach Pendant (m)
10
Extendable up to 30
Mass (kg)
120 (E25/E27), 170 (E35/ E37, E45/E47)
-
Power Requirements
America
AC440 - 480V ±10%
60 Hz、3ø 7.3kVA (E35) / 5.1kVA (E37)✽1
Protective ground, leakage current: 10 mA at maximum
-
Europe
AC380 - 415V ±10%
50/60 Hz、3ø 7.3kVA (E45) / 5.1kVA (E47)✽1
Protective ground, leakage current: 10 mA at maximum
-
Japan & Asia
AC200 - 220V ±10%、50/60Hz
3ø 10kVA (E25) / 5.6kVA (E27)✽1
Class-D ground (standard for robots), leakage current: 100 mA at maximum Class-A ground (for intrinsic explosion-proof safety circuits)
-
Installation Environment
Ambient Temperature (ºC)
0 - 45
-
Relative Humidity (%)
35 - 85 (No dew, nor frost allowed)
-
Teach Pendant
TFT color LCD display with touch-panel, E-Stop switch, teach lock switch, Enable switch
-
Auxiliary Storage Unit
-
USB Memory
Interface
USB, Ethernet (100BASE-TX), RS232C
-
✽1 : Power requirements ensure maximum operation of a robot, not those required for normal operations.
Contact
Click here