Kawasaki Introduces New Arc Welding Robot
April 27, 2017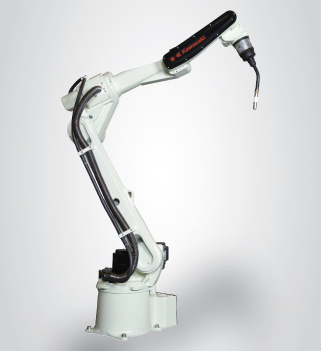 Kawasaki Robotics introduces the BA006L robot, a compact arc welding model with hollow wrist and increased reach for welding large workpieces. The 6 kg payload model has a long reach of 2,036 mm, compared to the existing BA006N robot's reach of 1,445 mm. The hollow wrist arm structure allows for through-arm cabling, simplifying cable and hose management. The offset upper arm design of the application specific robot easily accommodates wire feed equipment and enables the stable feeding of the welding wire.

FEATURES
1) Hollow wrist for through-arm cabling
The 45 mm inner diameter of the BA006L robot's hollow wrist structure is compatible with torch manufacturers' equipment and can be fitted with dress package cabling to minimize potential interference with other processing and manufacturing equipment.
2) Arm structure optimized for arc welding
The centers of the upper arm's length and rotation axis have been separated, allowing wire feeders to be placed in the space behind the upper arm. This is an improvement over their former position above the arm because it largely prevents wire feed cables from being bent excessively and minimizes wire feeders' interference with peripheral equipment during welding. This provides more operation flexibility and allows joint 6 to operate at higher speeds, increasing productivity. In addition to preventing in process cable snagging, this speeds up onsite programming and eliminates 'cable positioning variables' to make offline programming more efficient and maintenance faster.