Kawasaki Releases New Series of Large Payload Robots for North American Market
April 20, 2017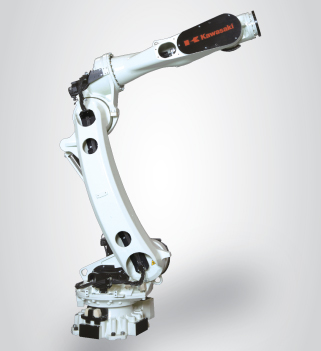 The general-purpose CX series robots offer a large payload capacity and feature a robust, yet lightweight, hollow arm and a new smaller sized universal controller. The series' high-speed and slim arm design was developed to suit a wide range of applications, from material handling to spot welding. The compact body, hollow arm structure and higher operating speeds of the CX series accelerate assembly and handling processes, improving productivity, and enable a higher density robot layout. The CX series include three models with different payload capacities: 110 kg for the CX110L, 165 kg for the CX165L, and 210 kg for the CX210L.

FEATURES
1) High-speed operation
The high-speed operation of the robots is achieved by combining a lightweight arm construction with a cutting-edge vibration control system and settings that focus on the top speed. This drastically reduces cycle time, especially in long stroke motion applications such as material handling.
2) Internal cable and hose harnesses
The robots' hollow upper arm and base construction make it possible to house cable and hose harnesses within the robot arm. This reduces the amount of work space required, improves the efficiency of offline simulations, and minimizes potential interference with adjacent robots and peripheral equipment. The large diameter of the hollow structure makes it easier to service the robots as well as retrofit cable and hose harnesses.
3) Increased installation flexibility
The CX series robots have a much smaller footprint and narrower body compared to other robots with similar payload capacity. The space saving design and long reach of these robots make it possible to satisfy most robot layout requirements.