Kawasaki Robotics
Kawasaki Robotics is a leading supplier of industrial robots and robotic automation systems with a broad product portfolio, able to service a wide range of applications all around the world.
A Kawasaki robot for every application
Featured Video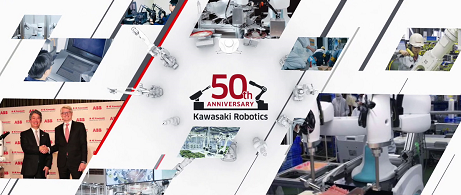 50-Year History of Kawasaki Heavy Industries' Robotics Business
Kawasaki Robotics has marked 50 years since its establishment. Together with its customers, Kawasaki has been developing technologies and gaining experience along the way. Leveraging this knowledge, Kawasaki will give back to society and aspire to become a fully integrated robot manufacturer that will design a bright new future promising a world where humans and robots can coexist side by side.
News & Events
April 29, 2019

CASE STUDY: Robotic Tube Bending (PDF:188.8K )
Through automation, this company created a safer work environment for employees, increased throughput, and created a more streamlined and efficient pr...

April 22, 2019

KTV Episode 5 - Options for duAro
In the final installment of the "Doing with duAro" miniseries, KTV hosts Johanna and Leith discuss the options available for Kawasaki duAro cobots - ...

April 11, 2019

KTV Episode 4.5 - LIVE from Automate 2019
Couldn't make it to Automate 2019? Don't worry! KTV hosts Johanna and Leith walk you through the Kawasaki booth where several applications are showcas...
24-HOUR SUPPORT HOTLINE

(248) 446-4271