Kawasaki Robotics
Kawasaki Robotics is a leading supplier of industrial robots and robotic automation systems with a broad product portfolio, able to service a wide range of applications all around the world.
A Kawasaki robot for every application
Featured Video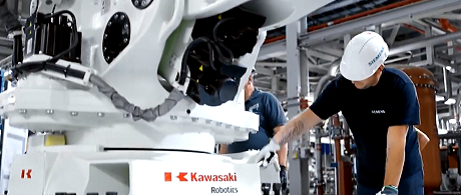 Kawasaki One Ton Payload Robot Installed at Siemens' Power Plant
The Kawasaki MG10HL robot, installed at the Siemens Lausward power plant in Dusseldorf, has a payload capacity of up to 1,000 kg and a 4 meter reach. The powerful, extra large payload Kawasaki robot was installed to perform the dangerous, routine maintenance task of replacing burners and transitions on huge gas turbines. (Video provided by Siemens)
News & Events
April 01, 2018

Kawasaki Group Now Named Precision Machinery and Robot Company
Kawasaki's Precision Machinery Company, which the Robot Division fell under, changed its name to Precision Machinery and Robot Company on April 1, 201...

April 01, 2018

A New Production Line for Kawasaki Clean Robots
Kawasaki completed a new production line for clean robots at its Nishi-Kobe Works site located in Nishi-Ku, Kobe, Japan; the opening ceremony was held...

March 28, 2018

Looking into the Past, Present, and Future of Robots in the Context of Social Changes
Learn how Kawasaki plans to counteract possible workforce shortages using collaborative robotics, humanoid robots and its new AI-enabled robot system,...
24-HOUR SUPPORT HOTLINE

(248) 446-4271