Kawasaki Robotics
Kawasaki Robotics is a leading supplier of industrial robots and robotic automation systems with a broad product portfolio, able to service a wide range of applications all around the world.
A Kawasaki robot for every application
Featured Video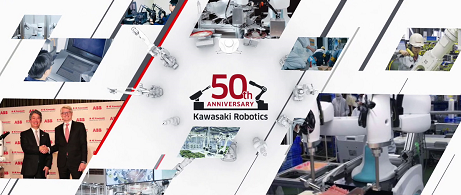 50-Year History of Kawasaki Heavy Industries' Robotics Business
Kawasaki Robotics has marked 50 years since its establishment. Together with its customers, Kawasaki has been developing technologies and gaining experience along the way. Leveraging this knowledge, Kawasaki will give back to society and aspire to become a fully integrated robot manufacturer that will design a bright new future promising a world where humans and robots can coexist side by side.
News & Events
June 24, 2020

Kawasaki Heavy Industries Invests in Global Mobility Service, Inc.
Kawasaki's investment helps GMS create financial opportunities for tricycle drivers so they can pay for education or new machinery, and take steps to ...

June 03, 2020

Kawasaki Robots Raise the Roof in Quality Homebuilding - Plastikmedia
Kawasaki large payload robots assemble and weld structural beams and critical joints for this modular home manufacturer, helping them minimize their ...

May 28, 2020

Controls Drives & Automation Features Kawasaki Bale-Handling Robot
After their first Kawasaki robot completed 10,794,000 cycles, Metsä Wood installed a new Kawasaki CP180L palletizer to handle roughly 1,000 25kg bales...
24-HOUR SUPPORT HOTLINE

(248) 446-4271